The Teachers (1976)
---
... this was my era too ...
A wonderful note from Terry McNulty, a teacher in 1976 - and a fascinating picture. I do recognise some of those faces too!!!
Terry writes....
I thought that the Association might be interested in the picture below, along with the staff names which I can recall - I have attempted to describe their locations on the photograph. After so many years it is impossible to remember all of them but some former pupils/staff may be able to fill in the gaps.
The photograph is somewhat faded by now having been on display in my study for many years, however Caz has informed me that the webmaster is a bit of a technical wizard and he may be able to enhance it [NOOOOOOO!!!!! It's not true!!!!!] . I was on the staff at that time (History and Careers Education). I was assisted in identifying some of the staff by my very good friend and former Kent School colleague David Evans who was a Chemistry Teacher at Kent in 1976 but who unfortunately was not present on the day that the photograph was taken. He sends his best wishes to the Association.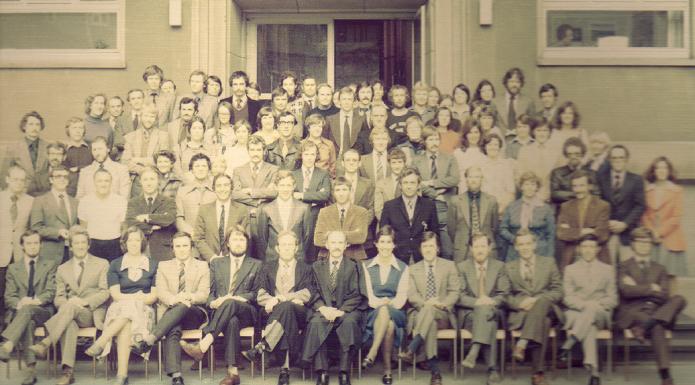 Front row (seated from left)
Mick Maguire, Peter Mordecai, Anne Maybury (married name 'Gurd'), Les Hortin, Emlyn Whitley, Bert Anderson, Ron Ion (Principal), Hilda Stewart, Peter Winkles, Lang Davies, Bob Bamford, Ian Farquar, Roger Hackney (School Bursar)
Second Row (from left)
Terry McNulty, John Loaring, Gordon Reeves, Geoff Harris, David Hudson, Martin Wilson (in leather jacket), Gerry Knox, Des Lacklison (in blazer), Rodney Ellis, Liz Millar, Martin Young
Third Row (from left)
Arthur Moran, Austen Welch, Sandi Wibrew, Bryn Beckett, Nora Harkness, Tom Black, Tony Martin, Chris Dodsworth, Terry Gilpin, Pete Stainsby, Anne Whitley, (unknown), Rod Taylor (bearded, in leather jacket), Rick Napp, (unknown)
Fourth Row (from left)
Jon Pryce, Pat Doherty, Dave Wake, Ian Barron, Serena Robinson (Sowinski), Jenny Parkinson, Mike Preen (dark framed glasses & leather jacket), Pat Cassidy (in front of Father Bill Boyd), Alan Parkinson (in light jacket standing behind and slightly to Rod Taylor's right)
Towards the back of the photograph there are only a few faces which I can put names to....
Bob Leeming (small & round faced), John Smith, Rick Howarth, Danny Strike (in dark jacket, V-necked sweater & moustache), Maureen Roberts (partially hidden behind Danny Strike), Jean Beaumont (to Maureen Roberts' left), David Roberts, Tom Neilsen-Marsh (in dark round necked sweater just in front of David Roberts), David Burchall (slightly to front of Tom Neilsen-Marsh in brown jacket), Dave Gibbs (in black Kent School 'T' shirt), Geoff Harris' wife (School Nurse - just behind Dave Gibbs' left shoulder), Father Bill Boyd (slightly to the front of Dave Gibbs), Roger Fetherstone (bearded and back row extreme right)