Our picture galleries
---
Do you have any Kenty-related pics??? Remember to send them in folks!!



Events is for events where Kenties meet up, chat, drink and generally have a great time together. If you have any pictures and tales of gatherings of ex-Kenties then send us the pictures and the stories!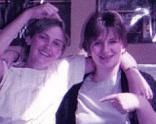 Our photos is for those dusty school photos of us, friends and Kentie teams we played in!




Kent School is for pictures of the old buildings - and the various revisits that have taken place.




Other stuff is for ... well ... anything that doesn't fit into the above I guess!